My name is Patt Trama and I am a writer and poet. Rocking impact beyond words, I make beautiful, different and Meaningful art happen. That makes me a word artist and these are my words.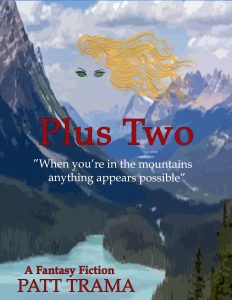 In Fictional Mountain Time (FMT), Hometown folks believe in what Sodomorian citizens never heard of, the Plus Two Experience.
Intrigue meets, shakes and creates more than one outlandish quest for the Plus Two. Emptyweed, native to the Hometown region, is a weed-plant, that after processing, produces a phenomenal side effect. Smoking Emptyweed promises lasting satisfaction, life larger than anything and anything is possible in the mountains.
Follow Super Stirling and Studd Diamond as they plan outrageous town takeover plots. Uncover deep, hidden secrets that bind the Blonde Lioness Woman and Shampain.
Find out about Wonder Water, camouflaged agendas and disguised motives. Get the whole story behind a cast of unforgettable characters, including the Joketeller and Alphonsine, as they mountain trek ways to make the PLUS TWO EXPERIENCE happen for them.
READ • HEAR • FEEL • BELONG • BETTER
★ Choose Great Fiction ★ Profound Verse ★
★ Moving Word Art/Poetry ★
books, poetry, wordart,
and verse at PattsWordArt.com.
Patt Trama
Books
Spirituality
Fantasy Novels
Audio Poems