A New Book by Patt Trama
Explore the Limitless Power of Prayer!
Available on Kindle. Get it today from Amazon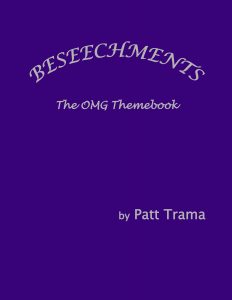 BESEECHMENTS, The OMG Themebook inspires inspiration. Connect communications. Feed the hunger for love with blessings from God. A book of uncommon prayer, Beseechments, The OMG Themebook presents a new now narrative; different ways to ask God for solutions and answers to life's challenging questions.
BESEECHMENTS, The OMG Themebook makes a thoughtful, extraordinary read.